This is Reiara. She is 7 years old and is waiting in Wisconsin.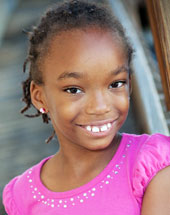 Here is what AdoptUSKids.org says about Reiara:
"Reiara is a smart and at times, shy 7-year-old African-American girl. She has beautiful brown eyes and a bright smile. She enjoys playing with dolls, reading and writing. She especially enjoys outings, playing cards, and going out to eat. During the summer months, Reiara enjoys swimming."
To learn more about Reiara, please click
HERE
.