Arianna is 5 years old and waiting in California. Look at that smirk - here comes trouble! She makes me think of our Munchkin. :)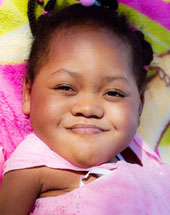 Here is what AdoptUSKids.org says about Arianna:
"Arianna is an adorable 5 year old little girl born in March 2007. She has a great attitude and is always smiling and in good spirits. She loves everything "princess" and her favorite colors are pink and purple. Arianna loves to sing and get her nails done. Arianna was born with a degenerative muscle condition that affects her physical strength and causes other medical issues. This does not deter Arianna from embracing life with joy and an adventurous spirit. Arianna has a spunky personality and infectious laugh that lights up any room she enters. She enjoys going on outings and being around other children. Arianna needs a committed and loving family that will make sure she gets the medical attention she needs to continue living life to the fullest."
To learn more about Arianna, click
HERE
.