Mr Amarie is 8 years old and is waiting in the state of Iowa. Are you his family?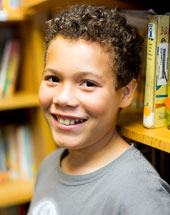 Here is what
AdoptUSKids.org
says about Amarie:
"A typical 8 year old, Amarie is full of questions! Amarie is an outgoing young man brimming with curiosity about the world around him. If you ask him a question, he will always have the right answer for you, too. Amarie likes school and does quite well in his classes; his teachers have lots of positive comments about him. He is a "very sweet child," who likes attention, spending time with other children his age, sharing his toys with friends, and trying new things.

An adoptive family should have patience, a structured routine, and the ability to give Amarie plenty of supervision and one-on-one time. Amarie will require help with appropriate behaviors and boundaries. His DHS adoption worker will consider families from any state, and has stated that a two-parent family with no other children or only older children would be ideal.

Will you answer Amarie's questions and be the caring adult in his life?"
To find out more about Amarie, click HERE.